Online safety advice
At Hernhill CE Primary School, we take online safety extremely seriously. It is the right of all children to feel safe and secure when using technology.
Our Digital Leaders take their responsibility for raising the profile of online safety and supporting other children across the school resolutely. See more information about them here - digital leaders' page.
e-Safety is taught to all pupils explaining and demonstrating how to stay safe and behave appropriately online.
We can only be successful in keeping children safe online if we work with parents to ensure the e-Safety message is consistent. It is important that parents speak to their children about how they can keep safe and behave appropriately online.
Parent Zone sits at the heart of modern family life, providing advice knowledge and support, to shape the best possible future for children, as they embrace the online world.
Their mission is to improve outcomes for children in a digital world, so:
Children will be safer online.

Children will be resilient enough to cope with the challenges of the online world.

Children will be educated for a digital future.
CEOP (The Child Exploitation and Online Protection Centre) delivers a multi-agency service dedicated to tackling the abuse and exploitation of children in the real and 'e' world. Often it is referred to as an online 999. By clicking on the button, young people and parents can get advice on a range of issues such as viruses, hacking and dealing with bullying online.


The "Thinkuknow" website is brought to you by the Child Exploitation and Online Protection (CEOP) centre.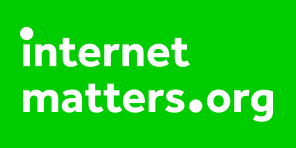 Internet Matters is a new online portal designed for parents to access simple, easy and practical advice about online safety for their children, right through from pre-school to teens. It provides tips on protecting children from online grooming, cyberbullying, privacy and identity theft and inappropriate content. Internet Matters is a not-for profit organisation set up by BT, Sky, TalkTalk and Virgin Media.
Virgin Media have created a children's internet safety test to help build awareness for parents and children of all ages to ensure they are better protected online.