Our Exciting Creative Curriculum
We offer a relevant, purposeful, enjoyable and creative curriculum
through whole school topics.
CLICK HERE FOR DOCUMENTS LINKED TO THIS TERM'S LEARNING
We deliver the National Curriculum content with science, history or geography being the key drivers for a topic with the subjects of art, design technology, music, computing and PSHE added to enrich the topic. RE, PE, MFL and maths are taught as separate subjects.
We operate a two-year rolling programme of topics with some topics in Year A and some in Year B. Our school's Christian values are interwoven into each topic. Every term, each class also have a "Big Question" to ponder on.
Please click here to download our Creative curriculum document.
Religious education at Hernhill will help educate for dignity and respect encouraging all to live well together. Pupils can expect that our RE curriculum will engage and challenge them through an exploration of core concepts and questions. Parents and carers can expect Hernhill to provide meaningful and informed dialogue with a range of religions and worldviews.
Please click here to download our RE curriculum document
Learning Skills
Across the school we have a set of five learning skills . These are attributes that will enable all of our learners to be successful.
The skills are being: a resilient learner, a reflective learner, a creative learner, a considerate learner and an independent learner.
Click her for details how what these look like in the classroom. INFANT LEARNING SKILLS JUNIOR LEARNING SKILLS
Phonics
In the Foundation Stage and Key Stage 1, the children are taught phonics using the Letters and Sounds programme. Further information can be found by clicking http://www.letters-and-sounds.com/
Reading
The school does not use one particular reading scheme but instead the children have access to a variety of texts, both fiction and non-fiction, from which to choose from colour-coded boxes. We have a list of recommended reads for children in the Junior classes to enrich the children's independent reading experience. Every classroom is equipped with a Book Corner, and reading activities take place every day. At Hernhill, we value sharing and enjoying stories, and encourage parents to continue reading to and with their children even after they can read fluently.
Writing
The children are taught to write in a variety of text types as they move throughout the school and are taught skills progressively in line with the National Curriculum. Writing tasks are linked to the topic work that the class is currently studying as this makes the writing more purposeful.
Spelling
At Hernhill, we believe that if children don't have to think about how to spell a word, they can put their energy into the actual content of their writing. Spelling is currently approached in three different ways. First of all, children are taught the spelling families and rules in accordance with the new Primary National Curriculum. Second, children work in pairs to 'gap-fill' their spelling knowledge through finding clues that can help them to remember such spellings and apply this knowledge to their writing across the curriculum. Finally, the school has set up a home-spelling scheme – which is linked to the gap-filling programme used in school – where parents have the optional opportunity to help their children practise sets of spellings tested during 'Super Spellers Weeks'.
Handwriting
The children are taught from Reception Class to write cursively. At Hernhill, we believe that muscle memory is an essential tool for learning how to spell as well as write fluently. Children in the Infants write using pencil and begin to write with pen for occasional writing tasks towards the end of Class 2 (key stage 1). In the Juniors, the children write with a blue handwriting pen.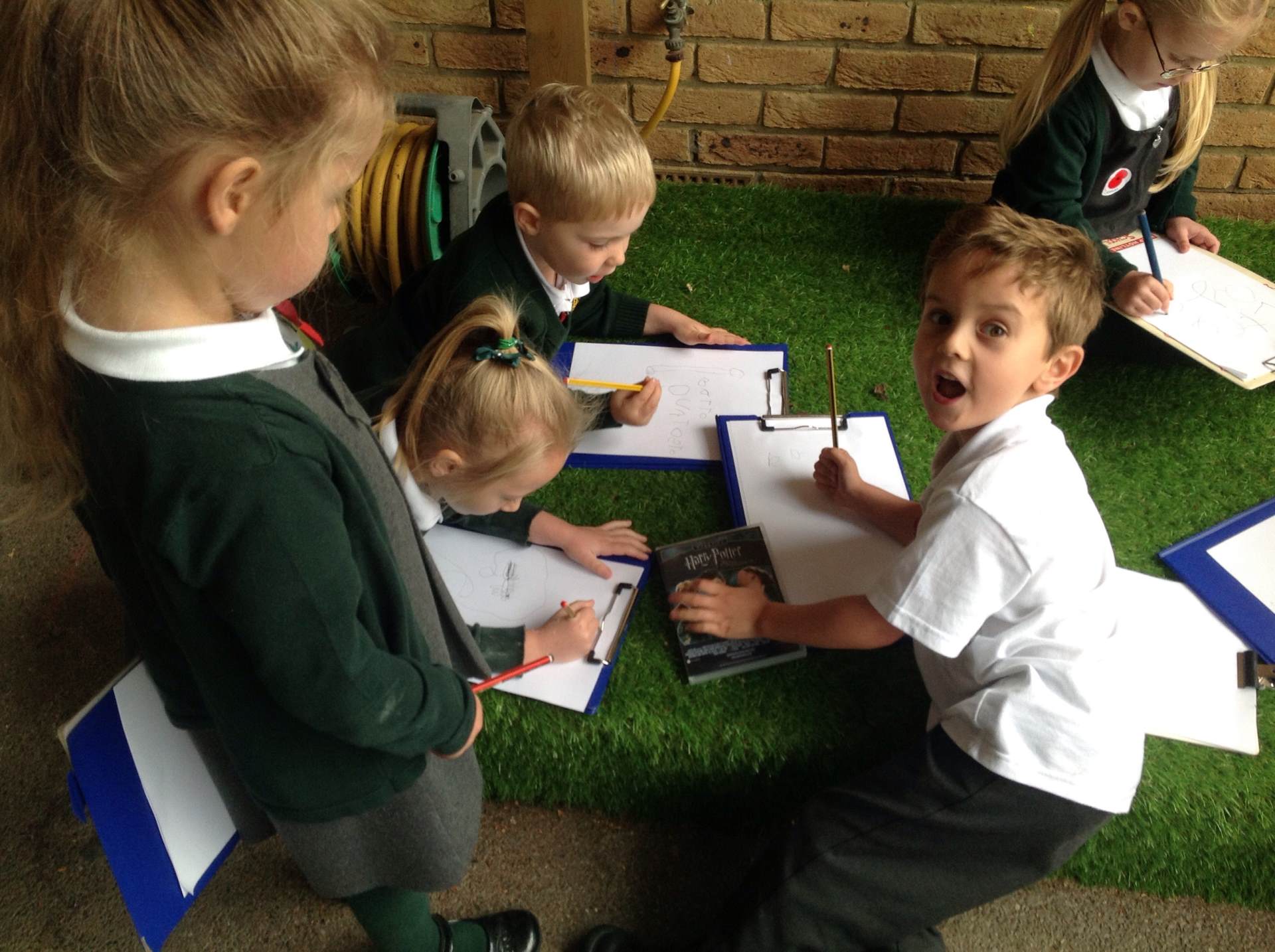 Speaking and Listening
The staff at Hernhill strive for the children to be confident speakers by the time they leave the school at the end of Key Stage 2. From the very start of their school life, every child is nurtured and encouraged to speak publicly and acquire the appropriate listening skills. These are always demonstrated during the numerous concerts and assemblies the children are part of throughout the year.
Mathematics
Here at Hernhill, all year groups follow the Mathematics programme of study for key stage 1 and 2. This has been devised as part of the new National curriculum in England for 2014.
Mathematics is a creative and highly inter-connected discipline that is essential to everyday life, critical to science, technology and engineering, and necessary for financial literacy and most forms of employment. A high-quality mathematics education therefore provides a foundation for understanding the world, the ability to reason mathematically, an appreciation of the beauty and power of mathematics, and a sense of enjoyment and curiosity about the subject.
Religious Education
At Hernhill, we follow the Kent Agreed Syllabus for Religious Education and the Understanding Christianity resource. We want our children to be inspired by RE and develop an understanding of Christianity and a broad range of religions and world views.
We use the Understanding Christianity resource as the basis for many of the units. Click here for our overall RE plan. The Understanding Christianity resource uses a piece of artwork entitled "The Big Story of the Bible" and in September 2018, our whole created a Hernhill version which is now proudly displayed in our hall.